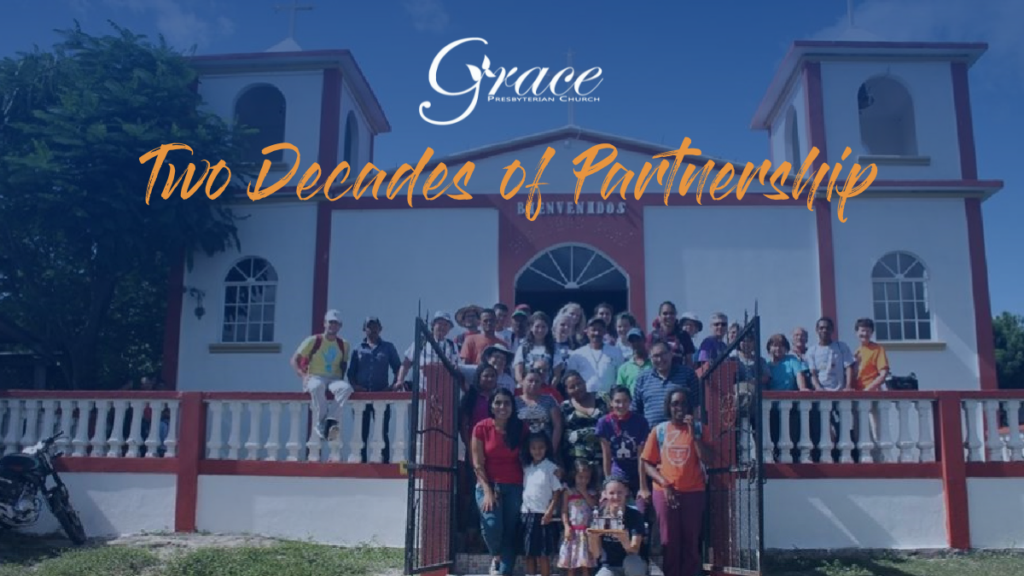 Partnership is at the very heart of the HOI mission: it touches the who, the how and the why of our work all at once. Church partnerships are a key part of that, and since their very first trip more than 20 years ago, Grace Presbyterian Church in Springfield, Virginia, has poured their time, talent and treasure into this ministry.
In this interview, hear from Grace elder Greta Tosi-Miller about how together, Grace Presbyterian and HOI have seen God move in Honduras and beyond.
When did your involvement with HOI begin?
It all began twenty-one years ago, with a Christmas greeting! A member of Grace Presbyterian Church in Springfield, Virginia received a Christmas card from a college roommate, whose daughter had just begun work at HOI. The details she shared of HOI's story were so compelling that the Grace congregation decided to send an exploratory team to Honduras in 2000, to observe HOI's ministry. The team returned with an overwhelming recommendation that Grace pursue a long-term relationship with HOI and their mission work. From that modest beginning, a rich and ongoing relationship has grown.
What do you think makes HOI's mission unique?
HOI has invested decades of time and developed a stellar reputation in the country of Honduras, working with the Honduran government on countless initiatives to help improve the lives of the Honduran people. Because of their ongoing commitment, HOI is deeply respected in Honduras. Done poorly, mission travel can be a form of "religious tourism." Done the HOI way, it results in sustained partnerships, ongoing development, and mutualistic (rather than paternalistic) relationships.
As to the travel experience, HOI provides a complete faith-based "plug and play" mission experience in which US teams are greeted at the airport by the welcoming HOI staff of guides, interpreters, drivers, and security personnel who shepherd teams throughout their stay. The HOI team provides safe travel, delicious meals, and comfortable lodging for US visitors during the week-long journey. Project overseers show mission teams how to complete the projects that the village leadership and HOI planners have already identified as needs for their community. Such logistical support frees mission travelers to focus upon experiencing the love of God through the people they meet along the path.
Beyond the work projects which are frequently centered around improving public health, HOI provides an in-depth spiritual growth program that invites US team members to
teach Vacation Bible School in the local communities
visit families in their homes to pray with them for their needs, and
join with adults in the communities in discussions around faith-based family values.
What prompted Grace Presbyterian to partner with HOI?
Initially, Grace was looking for a "hands on" international mission experience to engage our faith community. Grace was already involved in local and national hands-on mission opportunities but felt it was important to add an international mission partnership. Instead of merely sending funds, Grace sought to focus on direct engagement in mission work, and HOI became the perfect partner.
Today, HOI is one of our primary annual "hands on" mission trip offerings, but our relationship and engagement is not limited to one week a year. We support and pray for our HOI family in Honduras every week in our worship service, we write to and support over 10 scholarship students in the HOI education program, and we include HOI in our fundraising efforts not just as part of our annual mission budget, but also in special fundraisers during the year, including our holiday Alternative Gift Fair, our annual Fiesta at Grace to spotlight our relationship with HOI, and occasional used book sales to gather donations for our scholarship student support.
Countless US lives have been transformed as a result of Grace's more than 20 years of relationship with HOI. Many of our student travelers, for example, have chosen to major in medicine, international studies, and education. Others have sought careers with Not-for-profit organizations or other opportunities to "give back" their time and talents to make our world a better place. Not only the mission team members, but our entire congregation has experienced exponential growth in our depth of faith and generosity as we have humbly witnessed God's blessings and experienced God's call to love our neighbors near and far.
What have the people of Grace gained from mission journeys?
The gifts are almost too abundant to name: In addition to the individual spiritual growth and expanded worldview that mission travel offers, there are the deepened relationships with fellow team members, the new friendships formed with HOI staff and with the Honduran people we work alongside, the "God-moments," where unexpected blessings are given or received. We travel to Honduras with suitcases filled with supplies; we return with hearts filled with joy and humble gratitude.
Even beyond these things, however, there is a sense of meaning and participation for our support team at home. They are the ones who gather the supplies, who lift prayers and surround our team in a "God Bubble" throughout the trip; they are the ones who receive with joy the reports of our annual travel team.
Why should others get involved with HOI?
If you want to SEE and FEEL the grace of God through the Holy Spirit at work in yourself and the people around you, TAKE a mission trip with HOI! The depth of spiritual transformation and faith expansion that occurs in each of us during our 7-day trip is indescribable. We are unplugged from technology and the everyday "stuff" that distracts us while we are at home and instead are fully immersed in the love and grace of the people we encounter on the trip. The Holy Spirit is truly at work during those 7 days.
But be prepared: those who come for the "adventure" of the trip, or the desire to help others, or the thought that THEY are taking God to Honduras, are often caught off guard by the work of the Holy Spirit. While they thought that they were taking this trip to help others… they discover that THEY are the ones who needed the help and God has been waiting in Honduras for them to arrive!
How does Grace Presbyterian Church's mission align with that of HOI?
Grace Presbyterian Church's mission statement is "Growing in Spirit – Living as Disciples – Serving God's World" which perfectly aligns with the HOI's purpose for existence.